Hydrogen: Collaborative project with Alliander and KIWA
In Apeldoorn, the Dutch network operator Alliander and the certifier KIWA have opened a hydrogen demonstration and training centre for installers, planners and engineers. SANHA provides certified piping systems for reliable transport.
Hydrogen is on everyone's mind. If H2 is produced from renewable energies, it can make an important contribution in industry and commerce, in the mobility sector or in residential construction to achieve climate targets, gain economic and political independence and efficiently decarbonise the economy.
The "Hydrogen Experience Centre" in Apeldoorn clearly demonstrates the advantages, but also the questions, that the use of hydrogen brings with it. Here, the partners want to train experts to convert natural gas supply in residential areas to hydrogen. Not only in the Netherlands, but also in Germany and other countries, there is already a shortage of thousands of skilled installers for heating and bathroom renovation - so for the increasing use of hydrogen it is also important to have enough trained installers available. There are two boilers in the house: one that runs on hydrogen and one that runs on natural gas. The pipelines can be connected to one of the two boilers for demonstration and training purposes.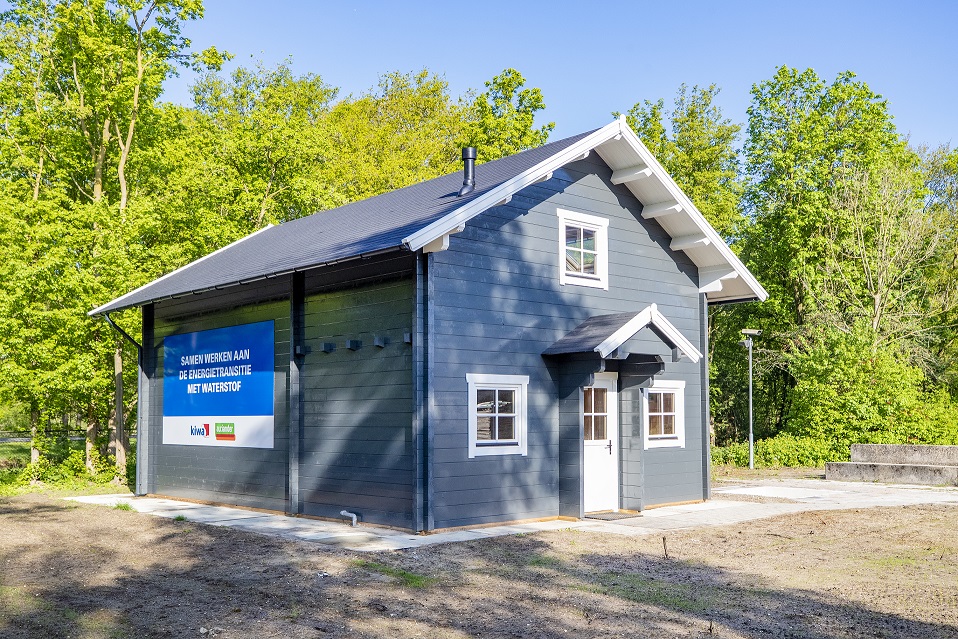 From natural gas to hydrogen
The Dutch government has set itself the goal of making all households in the Netherlands independent of natural gas by 2050. Other European countries are pursuing even more ambitious plans. The fact that the existing gas network can be used as a hydrogen network with little effort argues in favour of H2 as a practical option to replace natural gas in the medium and long term. To demonstrate the practical possibility, Kiwa and Alliander's hydrogen experience centre was set up exactly like a real house. The equipment includes a kitchen, a meter cabinet and a 100% hydrogen boiler. In this way, the application of hydrogen in residential buildings or built-up areas can be implemented without restrictions and put through its paces.
Certified piping system
The SANHA®-Press Gas system is used in the Hydrogen Experience Centre to transport hydrogen from the storage tank to the heating appliance. The copper piping system was the first press system to be globally certified by KIWA for use with H2 back in 2020 and is being used in various other hydrogen projects in Europe. The system is manufactured to the highest quality standards in the company's own plants in Belgium and Poland.
Partners for further hydrogen projects wanted
Another project is planned in a residential area in Lochem. The insulation standard of this building stock is not suitable for low-temperature surface heating or heat pumps, making hydrogen a good option as a first step.
As the first manufacturer with a certified (non-welded) piping system for building services and a competence centre for hydrogen, SANHA can offer suitable solutions for e.g. heating equipment manufacturers, chemical industry, production, heating or use as welding gas, for commercial or residential buildings. To drive the development towards a sustainable and future-proof energy supply, we are always open for collaborative projects.
Would you like to learn more about our hydrogen solutions or are you interested in collaborative projects?
Please contact us:
Technical Department
+49 2054 925160