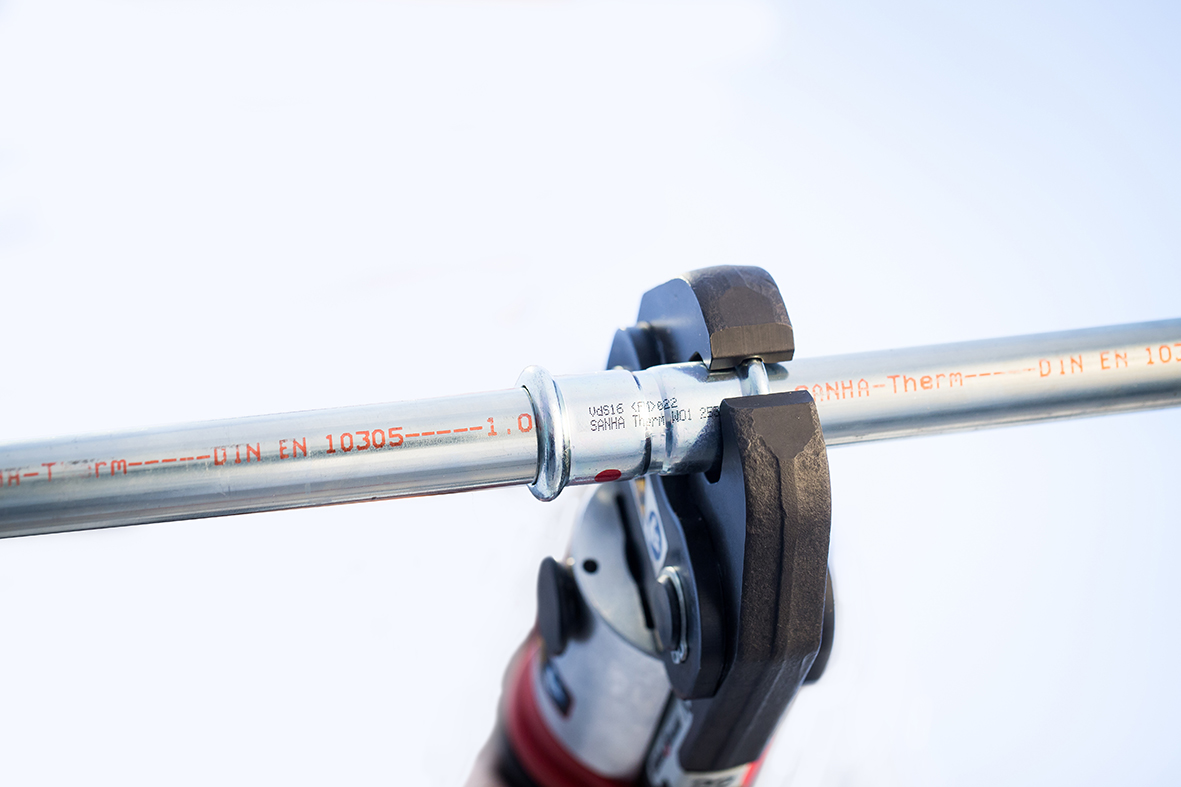 Pure stainless steel
Stainless - makes the grade.
The material number 1.4404/AISI 316L, contains at least 2.3% molybdenum, and a reduced amount of Carbon. This means that the corrosion resistance, compared to commonly used Stainless 1.4401/AISI 316, is much improved. For this reason, Designers, Plumbers and Engineering Contractors, can be sure that by using a NiroSan® Stainless Steel system, the quality exceeds that which is normally specified, without any impact on cost.
Practicality – Durability
All stainless steel tubes and fittings are TIG welded at our own factories. This gives us control, not just over the fitting, but also the connection. As our tubes are welded in a slower, more controlled process, the metal is less stressed and our standard NiroSan® tube can therefore be cold bent up to a diameter of 28 mm, and a smoother weld means less flow resistance.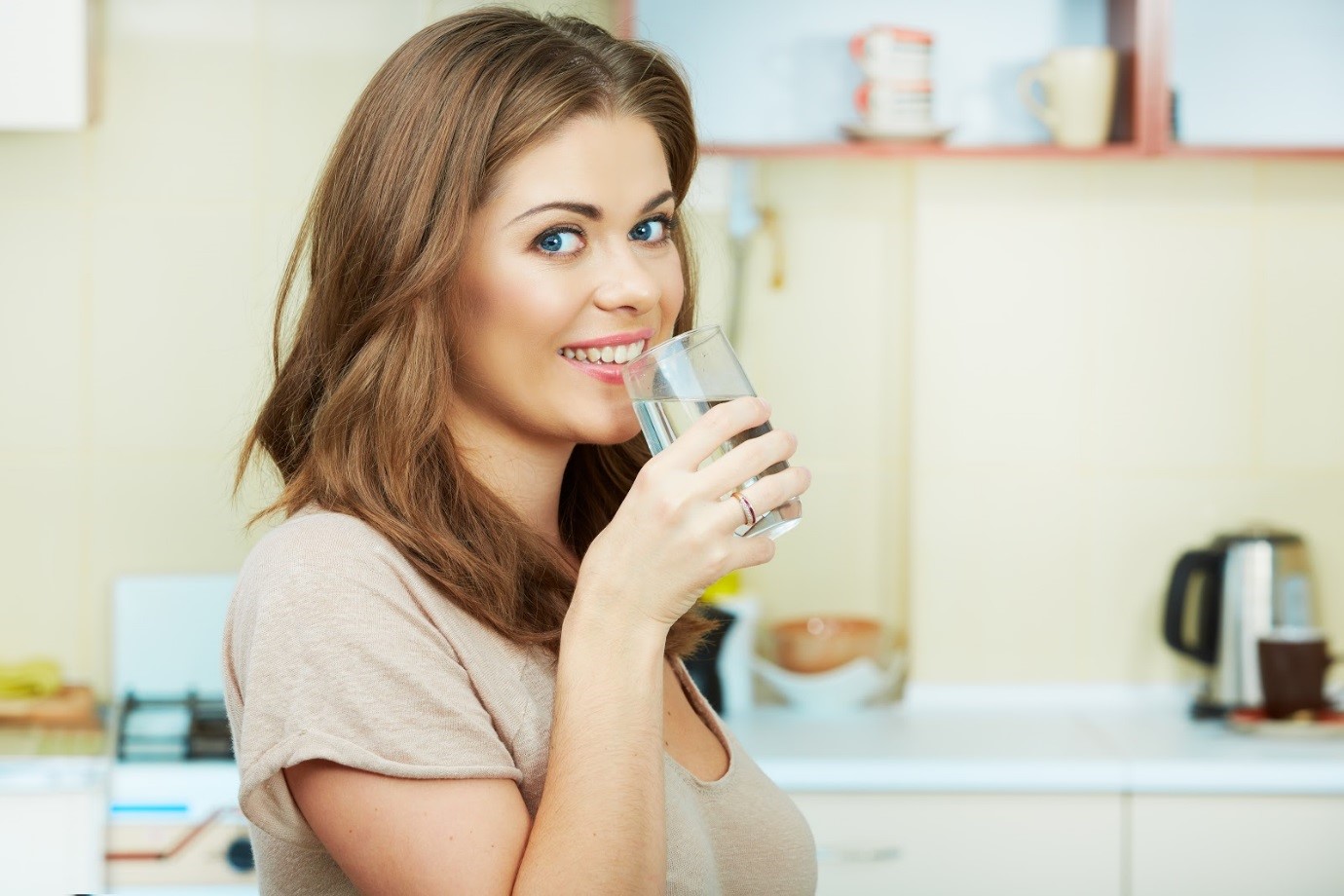 Kurzer Ausflug in die Entstehungsgeschichte
Als Krupp 1912 diesen Stahl entwickelte, erhielt er für viele Jahrzehnte den Namen V4A. Das V stand für Versuch bzw. Versuchsschmelze und das A für Austenit. Ab den sechziger und siebziger Jahren des letzten Jahrhunderts wurden die Schmelztechnologien der Stahlwerke weiterentwickelt. Neue Verfahren wie Argon-Sauerstoff-Entkohlung o.ä. ermöglichten eine Reduktion des Kohlenstoffgehalts auf deutlich unter 0,03 Prozent.
Edelstahlrohre optimal für Trinkwasser
Edelstahl ist grundsätzlich wegen seiner zahlreichen hervorragenden Eigenschaften in besonderer Weise für Rohrleitungssysteme in der Hausinstallation, insbesondere für Trinkwasserinstallationen, geeignet:
sehr hohe Korrosionsbeständigkeit,
hygienische Unbedenklichkeit (Edelstahl fördert kein biologisches Wachstum),
exzellente mechanische Eigenschaften (hohe Festigkeit bei gleichzeitig hoher Duktilität, praktisch keine Werkstoffalterung)
sehr glatte Oberflächen, dadurch keine Inkrustationen,
keine Migration (Edelstahl gibt durch Bildung einer Passivschicht praktisch keine Stoffe an Trinkwasser ab)
hohe thermische Belastbarkeit,
hohem Feuerwiderstand (nicht brennbar)
Diese Eigenschaften stellen sicher, dass ein Rohrleitungssystem aus Edelstahl - wie NiroSan - eine überdurchschnittlich lange Lebensdauer und die transportierten Medien wie insbesondere das Trinkwasser nicht beeinträchtigt werden.
Das Arbeitsblatt W541 des DVGW (Deutscher Verein des Gas- und Wasserfaches) definiert die Anforderungen für Trinkwasserrohre und spezifiziert die Güten 1.4401 und 1.4571. Mit der 2002 eingeführten EN 10312 wurde schließlich auch 1.4404 spezifiziert.
Edelstahlfittings und -rohre für hygienisch relevante Bereiche
Die seit langem praktizierte Verwendung von Edelstahl in der Medizintechnik, in der Lebensmittelverarbeitung und der Speisezubereitung belegt eindeutig die hygienische Unbedenklichkeit dieses Werkstoffes. Neben der Geschmacksneutralität verhält sich Edelstahl besonders im Hinblick auf die mikrobiologischen Eigenschaften neutral: Fittings und Rohre aus Edelstahl bieten Bakterien, Sporen und Fäulniserregern keinen Nährboden und somit keine Grundlage zu deren Wachstum.
Diese Eigenschaften kommen bei Verwendung von Edelstahl als Trinkwasserleitung direkt der Trinkwasserqualität zugute. Auch in anderen Bereichen wie Tiertränken in der Landwirtschaft, Pferdezucht, Viehhaltung oder in der Automobilindustrie können Rohrleitungssystemen aus Edelstahl optimal eingesetzt werden. Speziell für die Automobilindustrie bietet SANHA ein silikonfreies Rohrleitungssystem an. Für viele gewerbliche Bereiche wie KfZ-Werkstätten finden Betreiber die benötigten Rohre und Fittings leicht in unserem Webshop.
Mechanische Eigenschaften von Edelstahl
Edelstahl besitzt hervorragende mechanische Eigenschaften.
Die Zugfestigkeit Rm beträgt mindestens 550 N/mm2, wobei die Proportionalgrenze Rp 0,2 bei etwa 240 N/mm2 liegt. Der Elastizitätsmodul E liegt bei 210 000 N/mm2. Dies bietet eine hohe Sicherheit gegen das Durchbiegen und mechanische Beschädigungen der Rohrleitung bei der Montage, bei Umbauarbeiten und im Betrieb der Anlage.
Sehr glatte Oberfläche von Rohrleitungen aus Edelstahl
Aufgrund seiner mechanischen Festigkeit ist die Oberfläche sehr hart, hoch belastbar und sehr glatt. Der mittlere Rohrrauhigkeitsfaktor k beträgt nach DIN 1988-3 für Edelstahlrohre nur 0,0015 mm. Die glatte Oberfläche gewährleistet gleichbleibende Strömungsverhältnisse bei einem niedrigem Rohrreibungsdruckgefälle.
Durch die hoch belastbare und glatte Oberfläche unterliegt Edelstahl praktisch keiner Erosion durch im Fördermedium mitgeführte Partikel, Gasblasen etc. Molybdänhaltiger Edelstahl lässt aufgrund der sich auf der Werkstoffoberfläche bildenden Passivschicht praktisch keine Migration von Werkstoffbestandteilen in das zu befördernde Fluid, wie z. B. Trinkwasser zu. Einige andere Werkstoffe – wie zum Beispiel vernickelte Bauteile – können bei längeren Stagnationszeiten Metallionen an Wasser abgeben.
Die hohe thermische Belastbarkeit von Edelstahl ermöglicht einen breiten Anwendungsbereich für Rohrleitungssysteme aus diesem Werkstoff. Im Lebensmittelbereich müssen Leitungen oft mit Dampf bei einer Temperatur von mehr als 100 °C desinfiziert werden.
Chemische Zusammensetzung von Edelstahl 1.4404
C 0,03 / Si 1,0 / Mn 2,0 / S 0,03 / Cr 17,5 / Ni 12,5 / Mo 2,5 (alle Angaben in %)
Physikalische Eigenschaften
| | |
| --- | --- |
| Dichte | 8,0 kg/dm3 |
| Wärmeleitfähigkeit | 15 W/(m.K) |
| spezifische Wärme | 500 J/(kg·K) |
| spezifischer elektr. Widerstand | 0,75 ·mm2/m |
Behandlungsmöglichkeiten
wärmebehandeln

1020° - 1110°C

Luft-, Wasserabkühlung

Warmformgebung

1200° - 900°C

Luft

Kaltumformung

möglich
Als echte Alternative zu herkömmlichen C-Stahlsystemen in feuchtegefährdeten Bereichen wie im Estrich haben wir NiroTherm® (Werkstoff-Nr. 1.4301, AISI 304) entwickelt. In solchen Bereichen kann es mit C-Stahl schnell zu Außenkorrosion kommen, wenn das Gesamtsystem nicht ausreichend fachgerecht isoliert wurde oder es während der Verlegung unabsichtlich beschädigt wurde. Statt einer zeit- und kostenintensiven Isolierung stellt der Einsatz von NiroTherm®-Fittings und -Systemrohren aus Edelstahl oft eine sichere, zuverlässige Lösung dar.
Leichte Verarbeitung, lange Produktlebensdauer
Die Edelstahlsystemrohre und -fittings werden in unseren eigenen Werken sauber WIG-geschweißt und sind somit leicht zu verarbeiten. Als einziger Hersteller weltweit fertigen wir unsere Edelstahlsysteme vollständig in Deutschland. So können wir eine gleichbleibend hohe Qualität ebenso wie eine lange Produktlebensdauer jederzeit sicherstellen.
Weitere Informationen und Betriebsbedingungen finden Sie unter dem Punkt "Systembeschreibung". Bei Fragen wenden Sie sich bitte an unsere Technische Anwendungsberatung unter + 49 2054 925 170 oder technik@sanha.com.