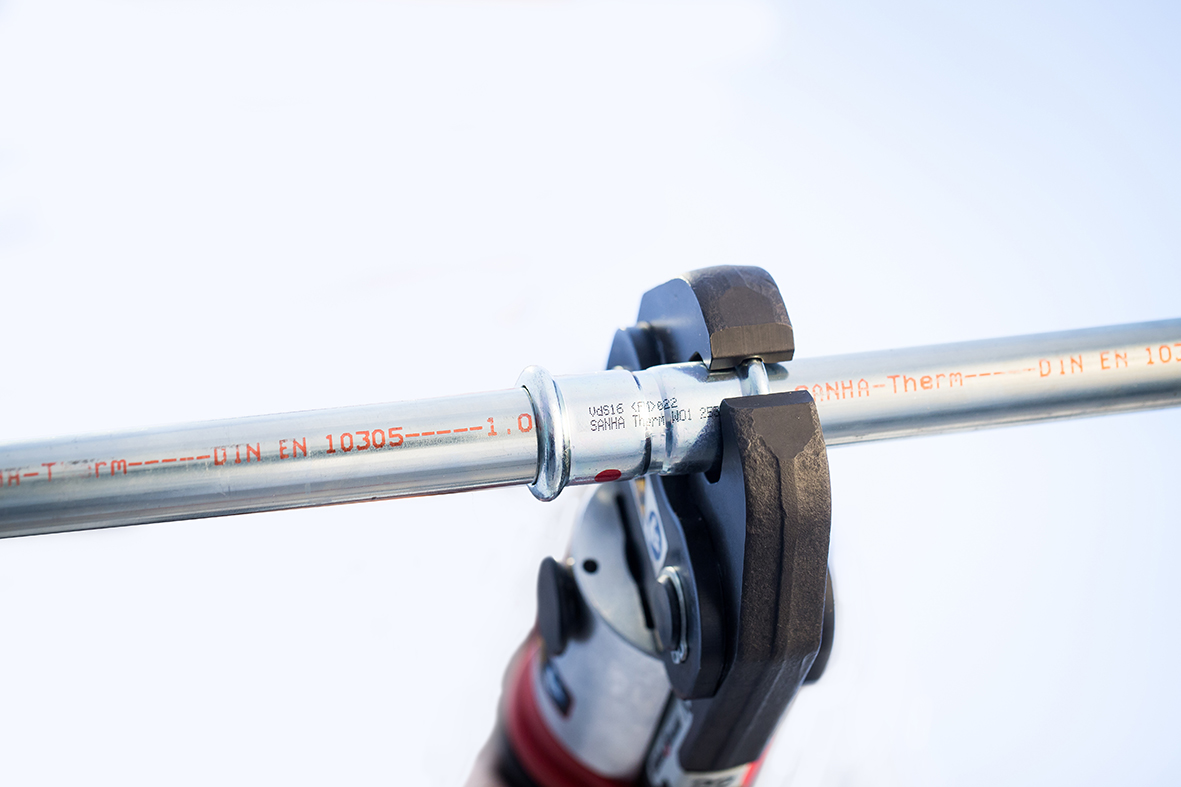 5 reasons to use press fittings
For installers, the secure connection of pipes is crucial to the success of any project. In the past, installers traditionally relied on welding and brazing to make safe connections. Although these are still common methods of installing piping systems in many countries, press fittings offer a number of advantages that often make them a better choice than welding or brazing. For installers, plumbers, HVAC specialists and others, press fittings are an excellent solution for joining pipes. We present the five most important reasons for using press fittings.
Press fittings save time and money
With press fittings, connections can be made in a fraction of the time required for welding or soldering pipes. In addition, much less training is required to operate the press tool compared to welding, brazing or soldering. This makes pressfittings an excellent labour-saving solution, especially when installing large pipe systems.
Press connections are tight
The operation of pressing tools varies according to manufacturer and brand, but one thing always applies: the strength of the connections. As long as the pipe is correctly prepared according to the instructions of the manufacturer of the pressing tool system and the piping system respectively, the connection is unbreakable and just as durable as a welded or soldered joint. Many hydraulic pressing tools also have an auto-cycle function that only switches off when the connection is completed, so there is no doubt that pipe and fitting are fully connected.
Press fittings offer flexibility
As press fittings are available in copper, copper alloys such as CuSi, stainless steel and carbon steel, they work with practically any pipe system made of these materials. This covers virtually all materials used in buildings - press fittings are therefore suitable for use in a wide range of applications. From gas, oil and corrosive materials to heating, steam and drinking water, it is very likely that there is a suitable solution for your project.
Press fittings increase safety on construction sites
Caution and safety should always come first on the construction site. Press fittings offer additional safety as no heat or (open) flames are required to make connections. This reduces the risk of injury during work on the construction site. Less safety equipment is required to operate a press fitting compared to welding or soldering, which can lead to additional cost savings.
Repairs can be carried out quickly
Even if the pipe system is wet, press connections can still be made (caution with carbon steel!). This makes them well suited for use in many commercial and industrial installations, as operations often can still be carried out with minimal interruptions during repairs. Press fittings make it partly unnecessary to shut down a pipe system for maintenance work. SANHA offers more than 8,500 articles for safe and hygienic piping systems up to dimension DN 150.
Would you like to know more? We are at your disposal:
webuk@sanha.com | +44 1628 819245