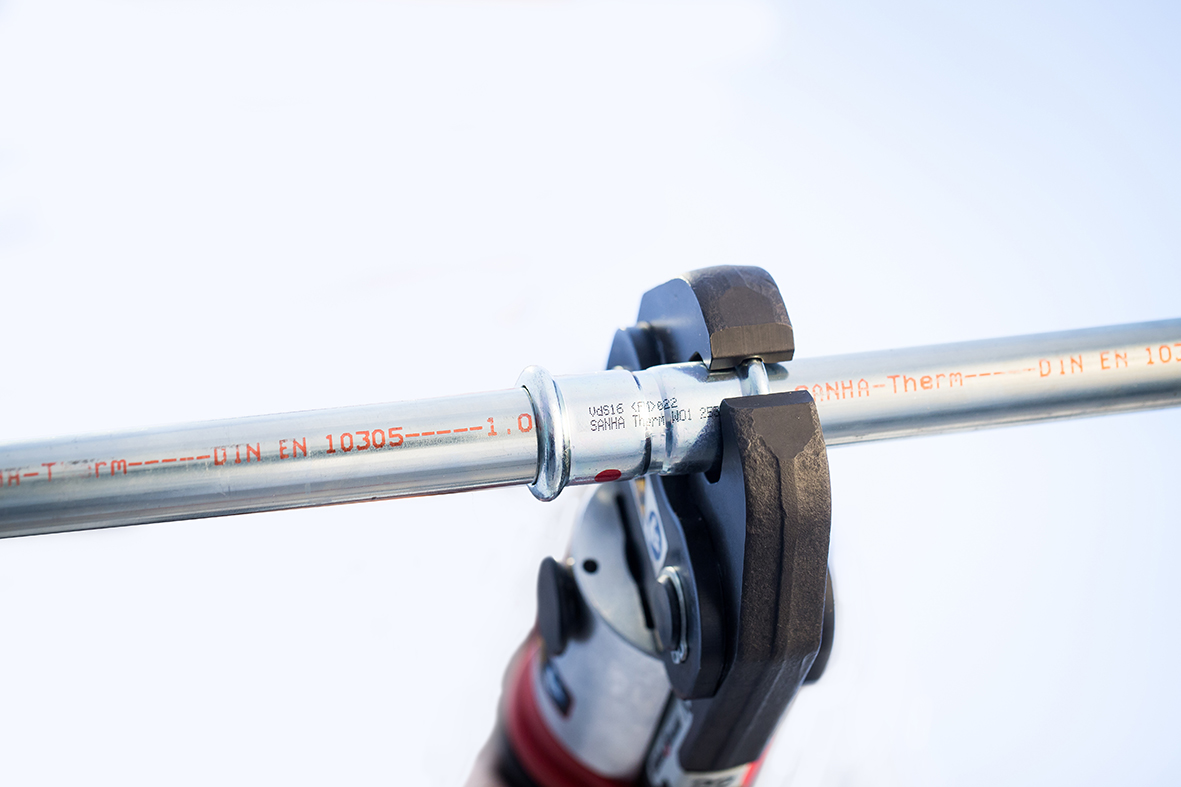 Carbon steel in piping systems
Carbon steel
or C-Steel is an alloy of steel, with carbon being the main interstitial element. This particular steel, according to the AISI definition, is characterised by a carbon content of up to 2 %, with comparatively low amounts of the more expensive elements such as nickel and chromium.
This type of steel is characterised by a carbon content of 0.2 to 0.65 percent as well as comparatively small amounts of high-priced alloying components such as nickel and chromium.
As a result, carbon steel represents a cost-effective, safe alternative to other materials in all piping systems closed to the atmosphere, i.e. into which no oxygen is introduced (for example, heating, cooling or solar systems).
The small amount of oxygen introduced during the filling of the heating system usually reacts with the carbon steel inside the pipe within a very short time and is rapidly degraded. In addition, carbon steel is easy to process.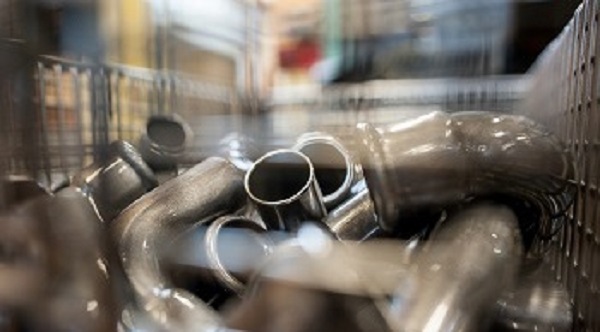 Carbon steel pipes and fittings for closed circuits
Pipes and fittings made of carbon steel are often used in heating systems and cooling water systems. This makes sense, because carbon steel fittings and pipes are particularly well suited for these applications. We show how a safe and long-lasting installation can be easily realised.
The most important argument for pipes and fittings made of carbon steel: they are economically very attractive. If you follow a few important tips, this is an ideal material for all closed systems, i.e. piping systems without a permanent or regular oxygen input. Installers can thus offer their customers a reliable heating or cooling system at a favourable price with this material if they observe a few simple points:
2. Storage and transport of carbon steel pipes and fittings.
Dry storage of carbon steel pipes and fittings is essential for a long-lasting installation. Storage on the floor should be avoided. Covering with foil can also have undesirable consequences. For example, condensation can form here.
Use a closed means of transport for transport. If stored in a clean and dry place, storage in contact with other metals is possible. It is better to play it safe and keep precious and non-precious metals separate! This can be easily achieved on the construction site, for example, by using cantilever racks in construction site storage containers, which SANHA offers in several areas for rent.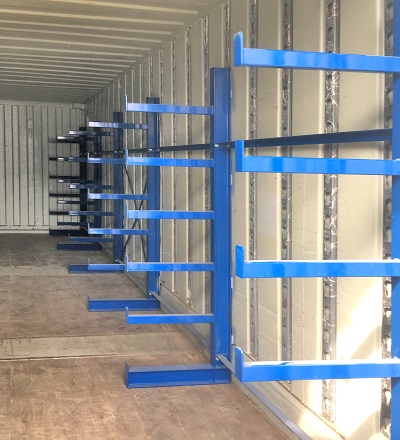 3. Areas of application
Piping systems made of carbon steel can easily be used for all internal piping in closed systems. Closed cooling water systems can also be installed with pipes and fittings made of carbon steel. This means: no outdoor installation, no chemically aggressive atmosphere and no permanent entry of oxygen into the system. This means that flow and return, riser and distribution pipes can be installed with carbon steel.
To avoid corrosion damage to components made of unalloyed steel, heating systems must be operated largely free of oxygen (O2 ≤ 0.1 mg/l according to German norm VDI 2035). If there is a risk of water being deposited on the pipe, the system must be protected with a corrosion coating according to AGI Q 151. This also applies if the pipe has been laid in screed or damp masonry. Alternatively, the NiroTherm® piping system made of stainless steel with material no. 1.4301 offers an excellent alternative in damp environments.
Plan heating and cooling circuits as such a closed piping system with closed expansion vessel.
there should always be overpressure in the system and
the system can be vented everywhere.
3.1 No installation for flammable gases
Pipes and fittings made of carbon steel are not approved for gas installations in most countries. But that doesn't matter - we offer various systems specifically for this purpose from our own European production, e.g. SANHA®-Press Gas or NiroSan® Gas.
4. Protect the connections of the carbon steel fittings.
If possible, connections for a radiator should not lead upwards from the floor, but directly into the wall via a wall connection box with integrated condensation protection. Neither plaster water nor moisture in the masonry can reach the carbon steel at the most critical points. Here, too, the corrosion protection must not be damaged subsequently.
Since floor and other pipes are nowadays often made with multilayer composite pipes, they can basically be a source of undesirable oxygen ingress. However, corresponding pipes with an oxygen-tight aluminium layer are also available.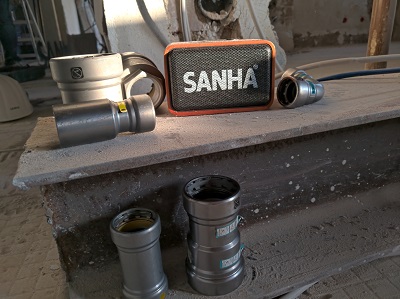 5. Correct pressure test
The initial pressure tests should be carried out with dry compressed air during the appropriate construction phases. Only when the system is put into operation should water be used for testing.
Do you have to test with water for certain reasons? Then it should at least be of the prescribed quality and the operating medium should be refilled after the pressure test after three days at the latest.
By the way: You can download our pressure test protocols here.
6. Commissioning of c-steel piping systems
Before commissioning, a system must be flushed. This removes loose dirt and foreign bodies that are introduced into the system during installation. In all cases, flushing and commissioning of the system should be carried out according to the manufacturer's instructions. Guidance on commissioning and flushing can be found in CIBSE AM14:2010.
Most carbon steel piping systems are galvanised on the outside or both sides (not for heating). This approx. 7 micrometre thick layer provides a certain (!) level of protection according to EN ISO 2081 (stress level 1). These systems are therefore suitable for installation in warm and dry atmospheres. A brief humidification has no effect if the pipe surface is dried quickly afterwards but should still be avoided if at all possible.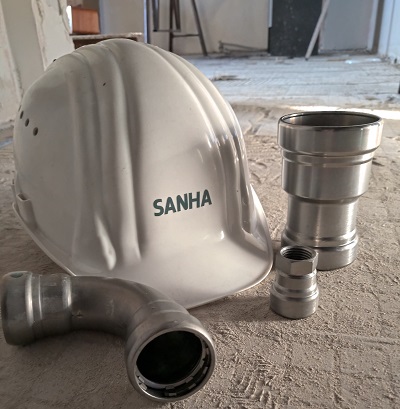 7. Effective corrosion protection
Is condensation to be expected (e.g. in cooling lines)? Then diffusion-tight protection is required. This should at least consist of closed-pored insulation material and a corrosion protection coating according to AGI worksheet Q151 (German norm, please contact our Technical Support at technik@sanha.com for more detailed information).
7.1 Precious and base metals (mixed installation)
Corrosion is also caused by mixed installations with precious metals. In this case, the flow rule must always be observed. In a mixed installation, different materials are used in a coherent system. This applies to pipes, fittings and containers. According to DIN 1988, this mixed installation cannot be avoided in principle and is state of the art.
This notwithstanding, corrosion can occur and the base metal can dissolve over time.
If the water first flows through components made of base materials and then comes into contact with the more noble materials, this risk of corrosion is significantly reduced. In the opposite case, copper ions, for example, are deposited on iron or zinc surfaces, whereby the less noble zinc or iron goes into solution. The consequence of this is the so-called "copper-induced pitting corrosion".
7.2 No open or ventilated systems
Corrosion occurs when three things come together:
Oxygen
water
a base metal.
So it's obvious: oxygen ingress increases the risk of corrosion. This means: For open systems, please use stainless steel, multi-layer composite or copper!
Filling and make-up water for heating systems also contains oxygen. As a rule, drinking water can be used for this. However, this often has a slightly different pH value - 8.2 - 10 is ideal. If the system is operated with low salt levels, deviations in the pH value can be tolerated. The resistance of the heating water is significantly greater than the resistance of the top layer. Otherwise, of course, the specifications of the relevant norms such as German VDI 2035 apply.
8. End-user information & maintenance intervals
Inform the end-user about corrosion-relevant issues such as unscheduled room use, maximum humidity, use of additives, etc.
Point out the recommended inspection intervals. It is best to arrange an appointment right away.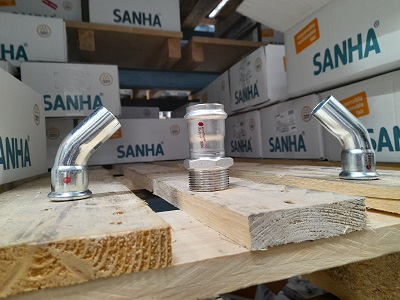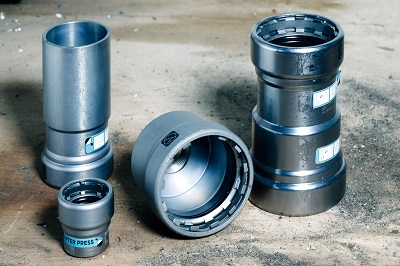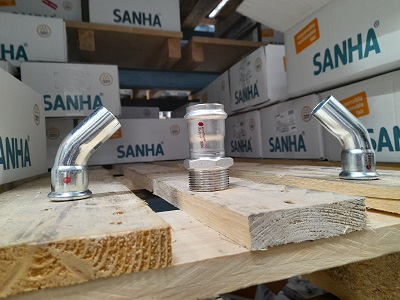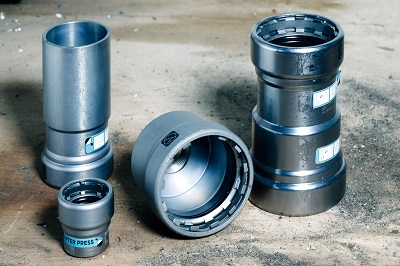 Conclusion
With carbon steel piping systems, installers can bid very competitively for construction projects.
Those who follow a few simple steps can permanently protect the piping system from corrosion. To do this, care must be taken during the construction phase to ensure that the installed pipes are stored or laid in dry environments, that water penetration in the vicinity of pipes is detected at an early stage, and/or that the pipe surfaces are provided with effective corrosion protection. To achieve this goal, it is not necessary to create new rules or develop new products, but simply to take into account and comply with known technical rules and specifications.
Pipes and fittings - one system!
We offer no less than four pipe systems made of carbon steel:
The system press fittings and pipes made of galvanised steel are a particularly economical alternative for all closed systems such as heating, cooling, solar systems, compressed air or gases (depending on the system and sealing ring, please refer to the installation instructions).
For high-temperature applications, for example in industry, a variant with a red FKM sealing ring is available (also up to dimension 108 mm).
Heavy metal: pressing instead of welding
Thick-walled steel pipes used to be joined by welding. This joining technique is very safe, but also very time-consuming.
With the Heavy Steel Press and Heavy Steel Press Gas systems, such piping systems can be pressed very easily.
Technical advice on carbon steel press fittings and pipes
If you have any questions, please do not hesitate to contact our Technical Support:
webuk@sanha.com | +44 1628 819 245
technik@sanha.com | +49 2054 925 170
Information on thermal linear expansion can be found in this document.