Clean and safe - SANHA's CSR and environmental protection declaration
Corporate Social Responsibility
Health and safety is part of environmental protection and therefore an integral part of all SANHA® activities. In our opinion, the greatest impact is achieved through preventive measures. Corporate social responsibility is an important part of our values and we are strongly committed to it. Therefore, we avoid and minimise negative impacts on the environment by manufacturing our products in a thoughtful way and carefully selecting the materials we use. We strive for high efficiency in the use of energy and natural resources, promote recycling of materials and work to reduce material and energy consumption and further develop our environmental performance and sustainability.
1. circular economy
1.1 Current level - Current performance 
SANHA® has worked for and received several certificates, including a recycling certificate. All other certificates such as our ISO 50001 and ISO 9001 certificates can be found at www.sanha.com.
The concept of sustainability is also reflected in the product development and choice of materials. The copper pre-material consists of more than 50 percent recycled material, and SANHA® has also been one of the pioneers of innovative lead-free silicon-bronze press and threaded fittings since 2008.
Our fittings are made as much as possible from sustainable materials that have a long life cycle and can be recycled afterwards.
Both high-quality materials have a service life of more than 50 years under normal use.
Copper tubes are supplied as pre-material in wooden crates. The empty boxes are collected when new deliveries are made and later serve as packaging again. It is actually an exchange system like the one used for Euro pallets. Boxes that are too damaged to be reused as packaging can be taken by staff and externals who give them a second life such as animal or garden sheds.
All packaging materials are collected and processed separately, with the aim of reducing waste each year. As we manage to collect the waste properly and process it in an environmentally conscious way, we receive bonuses for this every year.
Tools that no longer meet all the conditions for use in the company but still work are offered to employees free of charge to give the material a second life.
SANHA® also aims to move away from a throwaway society by using recycled cups for coffee and reusable cups at meetings. Staff are also encouraged to use the cups more than once.
Because we design and make our own moulds, there is less material waste in the long run. If a mould shows signs of wear, we don't throw it away, but can often rework and reuse it.
SANHA has invested heavily in BIM in recent years. Building Information Modelling ensures the following positive effects with regard to recycling:
the integration of all data related to the reuse of building materials from the design phase thanks to the tools provided.
the availability of a database that allows the management of material flows throughout their life cycle through a controlled process.
the optimisation of building maintenance and the recyclability of the materials used to manage and reuse the elements that can be replaced during their life cycle.
further reducing the burden of non-recyclable materials during the life cycle and after the demolition of a building.
1.2 Development and objective
We continue to meet the requirements according to the ISO standards and try to tighten them continuously. To this end, we regularly have internal and external audits carried out.
In the future, we want to focus even more on sustainable energy generation on our own company land and buildings, such as the use of wind and solar energy. The goal is to complete the current projects for wind turbines and solar plants in the next two years.
In addition, we want to bring even more recyclable materials into the company, both in packaging and consumables.
We continue to invest in BIM optimisation and innovation.
2. CO2 neutrality
2.1 Current level and performance
To achieve our specific quality, environmental and energy objectives, we have implemented the SANHA Total Quality Management System (TQM), an integrated management system that covers and complies with the requirements and proposals of the ISO 9001, 50001 and 14001 standards as amended. We are committed to providing all the information, resources and documentation necessary to implement this policy and the tasks and outcomes of our strategy and the operational principles of our TQM system;
for the active participation of all our employees across departments in all process steps of continuous development; for the creation of awareness among employees of the policy, objectives and their contribution to the effectiveness of the TQM system;
to comply with all applicable international and national legal and other known mandatory requirements, particularly in the area of efficient use, application and consumption of energy and energy resources;
establish regular monitoring and review of our strategic and operational quality performance and energy targets.
In addition, we are committed to regularly assessing the timeliness and appropriateness of our policy and TQM system and continuously improving its effectiveness in line with the interests of our customers and our organisation.
The following elements are important to classify this issue:
All SANHA® units have a valid operating permit and a valid environmental permit. For the disposal of our waste products during the production process, all our sites comply with the current European standards. We meet or exceed all legal requirements - national and international - for the protection of the environment as well as for the protection of human health in connection with the materials used.
In the area of energy management, we pursue our goals, which lead to constant further development. Therefore, we strive for high efficiency in the use of energy and natural resources, the reuse of materials and, in addition, a reduction in the use of materials as well as a reduction in energy consumption. To prove this, we hold the ISO 50001 certificate. In order to strengthen these goals and achieve these targets, we have our own energy managers per site. These ensure that the imposed and set targets are pursued.
We do everything we can to prevent or minimise negative impacts on the environment and people. For example, we have obtained a recycling certificate. All our certificates, including ISO 50001 and ISO 9000, can be found at www.sanha.com/en/about-sanha/company-certificates/.
The environmental conditions included in the ISO 9000 certificate are adhered to by our entire quality service. This is because we strive for perfection and are determined to meet the strictest standards.
One example of this is our new stainless steel moulding production facility in Schmiedefeld near Dresden. A light, modern and highly efficient industrial building was constructed here. From the selection of the substrate to the implementation of friendly and light working conditions, with modern, new production machines to energy-efficient heating through waste heat recovery, the company meets all the requirements it has set itself. For this, SANHA® was awarded the gold certificate "German Sustainable Building" at Expo Real 2009. When constructing new buildings, SANHA® therefore takes CO2 into account, which is why we opted for a passive house.
The number of commercial vehicles has been greatly reduced and there are also strict guidelines for the CO2 emissions of our commercial vehicles.
Conference calls, meetings and cross-country training via MS Teams are heavily used in all our offices. This eliminates a lot of unnecessary travel by both car and plane, drastically reducing CO2 emissions.
Employees can use a system with flexible working hours. In this way, they can avoid traffic jams, which leads to lower fuel consumption and thus lower CO2 emissions.
In 2017, SANHA® was able to save 50 tonnes of CO2 through its (financial) contribution to the activities of the Austrian Working Group for Plastic Pipe Recycling (ÖAKR). Greenhouse gases are released during collection, sorting, transport and recycling. By replacing old plastic pipes with primary materials, greenhouse gas emissions are reduced and raw materials are saved.
Since we work with cloud services, only the server space we really need is used. This leads to a better carbon footprint. Using cloud services results in lower energy consumption than our own previous servers.
On the roof of the production facility in Ternat, 2750 photovoltaic panels with a capacity of 852kWp were installed. This enables the company to produce in an even more environmentally friendly and sustainable way.
2.1 Development and objective
We try to build on the principles we have developed over the years. SANHA®'s energy managers and senior quality manager monitor these targets and tighten them every year.
We are currently renovating the heating and cooling systems, where high efficiency (and therefore lower consumption) is of great importance.
A wind and solar energy project is underway to generate energy for the production of our fittings in a sustainable way.
In the future, we will also look more closely at the extent to which our suppliers contribute to a healthier environment and take this into account when working together.
2.2 Energy policy 
Our goal is to continuously reduce the specific energy demand for production, handling and distribution of our products and services. We aim to save energy and align our organisation accordingly to define the best possible energy performance as the goal of our continuous improvement.
We are committed to involving our business partners in the process of improving energy performance (including the purchase of energy-efficient products and services) with the aim of continuously and sustainably increasing energy efficiency.
3. human resources policy
3.1 Current status - Current performance
Over the years, SANHA® has developed a human resources policy that is strongly focused on employee safety and development in terms of well-being, welfare and participation.
We have an established diversity policy. The wide diversity of nationalities and ages in the different SANHA® locations brings several advantages. For example, employees with different cultural backgrounds often have different knowledge and ways of thinking. This can be very refreshing and lead to innovative ways of working.
In addition, SANHA® works with people with disabilities in certain jobs. The percentage across the different locations is as follows:
SANHA® Essen: 3.64 % 
SANHA Berlin: 9.09 %
Overall in our German branches : 4.55 %. 
Since 2017, SANHA® has developed a plan to also work with sheltered workshops and integrate these people into the company as much as possible. Sheltered workshops refer to an organisation or environment where people with disabilities are employed separately from other people.
On 1 January 2018, we started with 6 additional people in the packaging department at SANHA Fittings Ternat. In the meantime, we are already working with 14 people from AMAB's sheltered workshop.
The employees have flexible working hours, which gives them the opportunity to better balance the demands of their private and professional lives.
SANHA® has developed a human resources policy where employees have the opportunity to have a daily performance review with the human resources manager. In this way, employees can approach each other with an open mind and do not avoid conversations. In addition, this also gives employees the opportunity to reveal work points and give ideas to further improve the way SANHA® works. All this to ensure the well-being of the employees and to let them participate in the SANHA® policy.
Healthy and safe working is an important fact in the company. New employees in production are therefore always trained in safety. Good safety measures lead to fewer accidents and therefore less absenteeism. With a simple check of the application and compliance with safety regulations, we ensure that employees can work longer and healthier.
Employees are also given the opportunity to participate in first aid and other external training.
SANHA® works on the sustainable employability of its employees by letting them develop in different work areas so that they are more broadly applicable. Internal training is therefore very common, leading to many career opportunities within the company.
We also encourage a healthy lifestyle among our employees by rewarding them with cycling allowances and regularly giving them the opportunity to sign up for various sports.
SANHA has an internal motivation committee consisting of SANHA employees who volunteer to do this. The aim of the motivation committee is to involve, inform and motivate employees. In concrete terms, this means organising events and taking various measures/initiatives to improve the working atmosphere. All this is always done in consultation with the staff.
3.1 Development and objective
In the coming years SANHA® Fittings will analyse the functioning of the sheltered workshop and share the results with the other SANHA® companies. At the moment we are very optimistic about the results and it is our ambition to work with the sheltered workshops also at the sites in Germany and Poland.
For jobs that offer this possibility, we will always try to employ people with disabilities in order to fulfil our social obligation.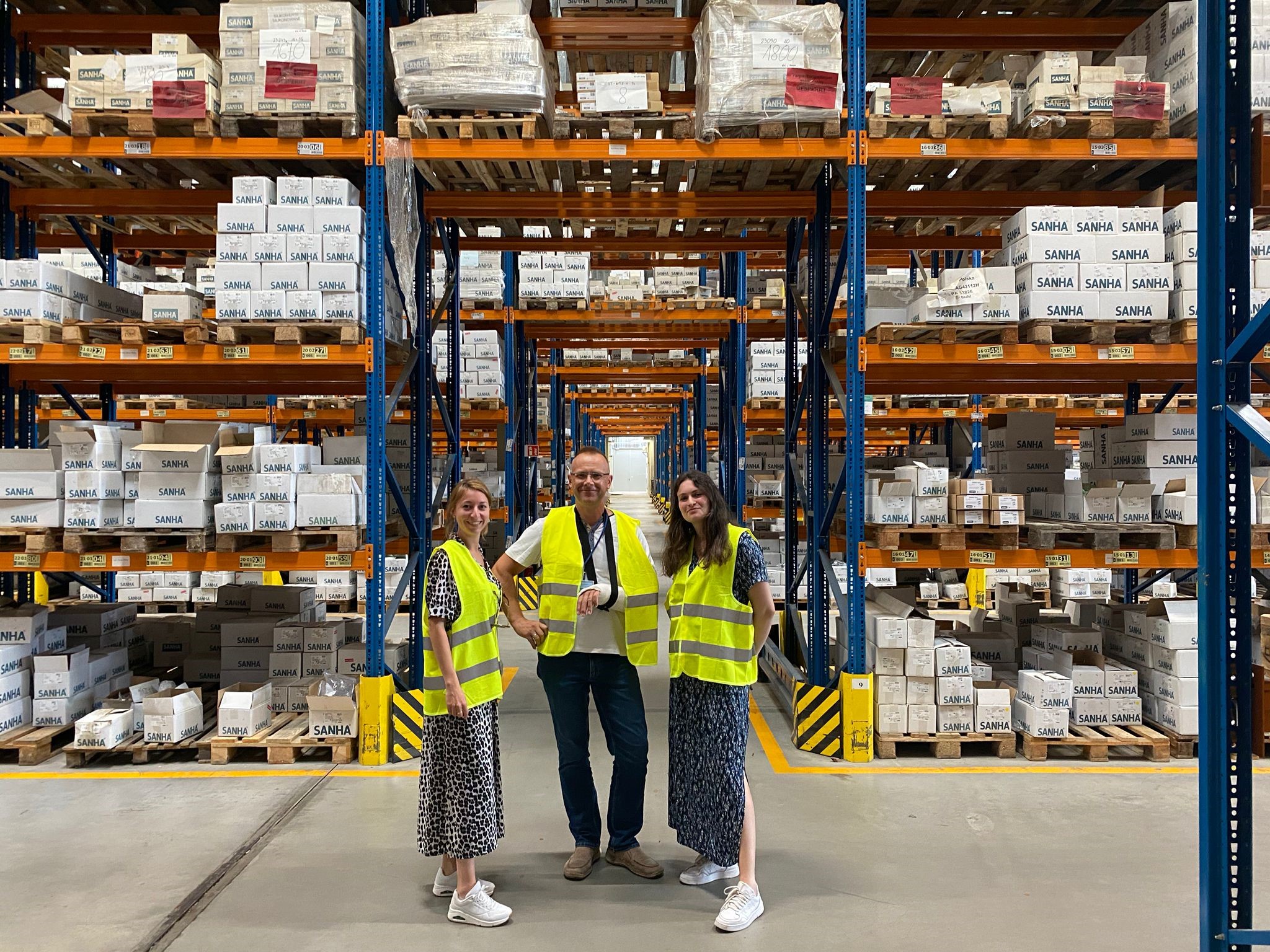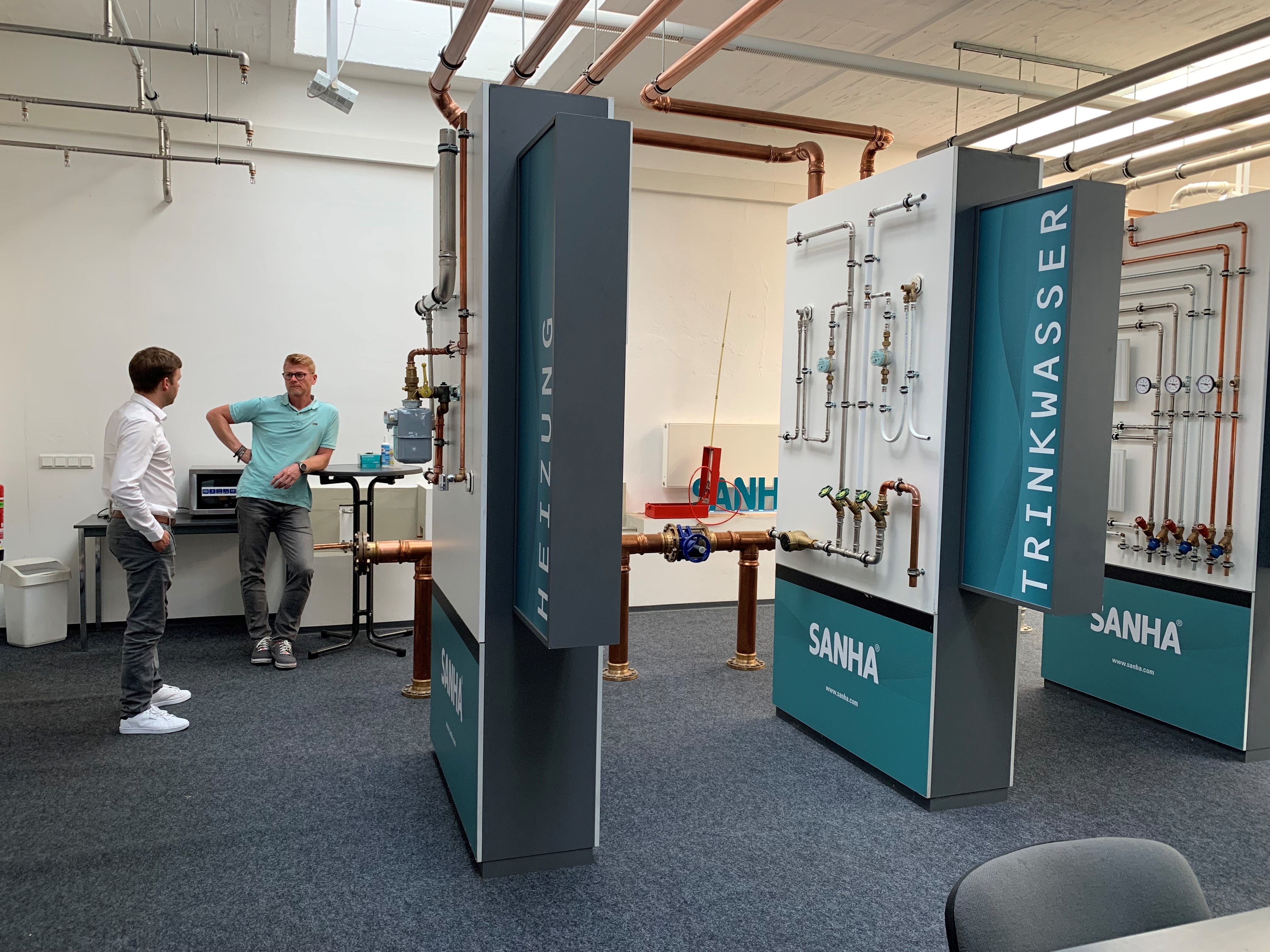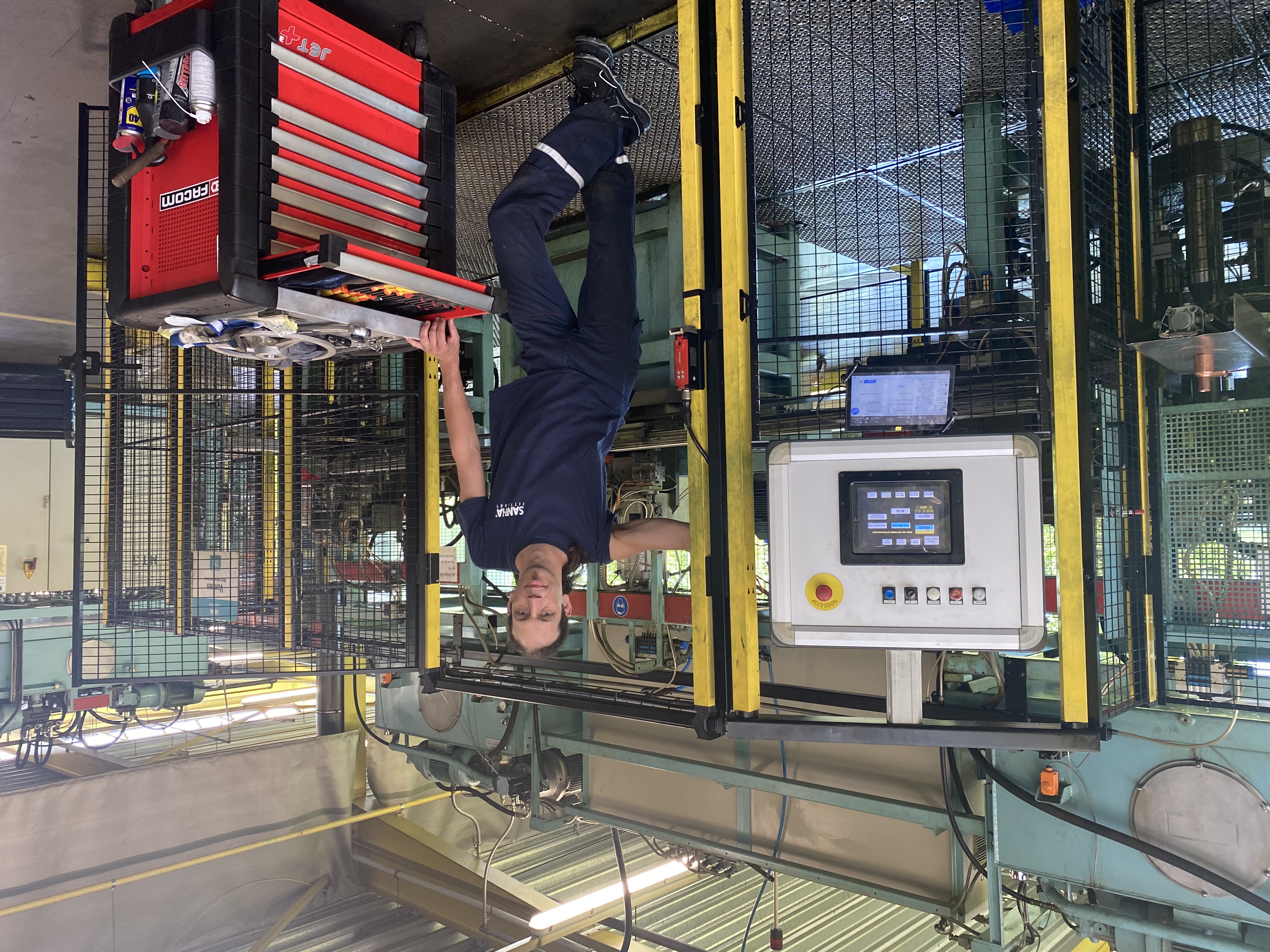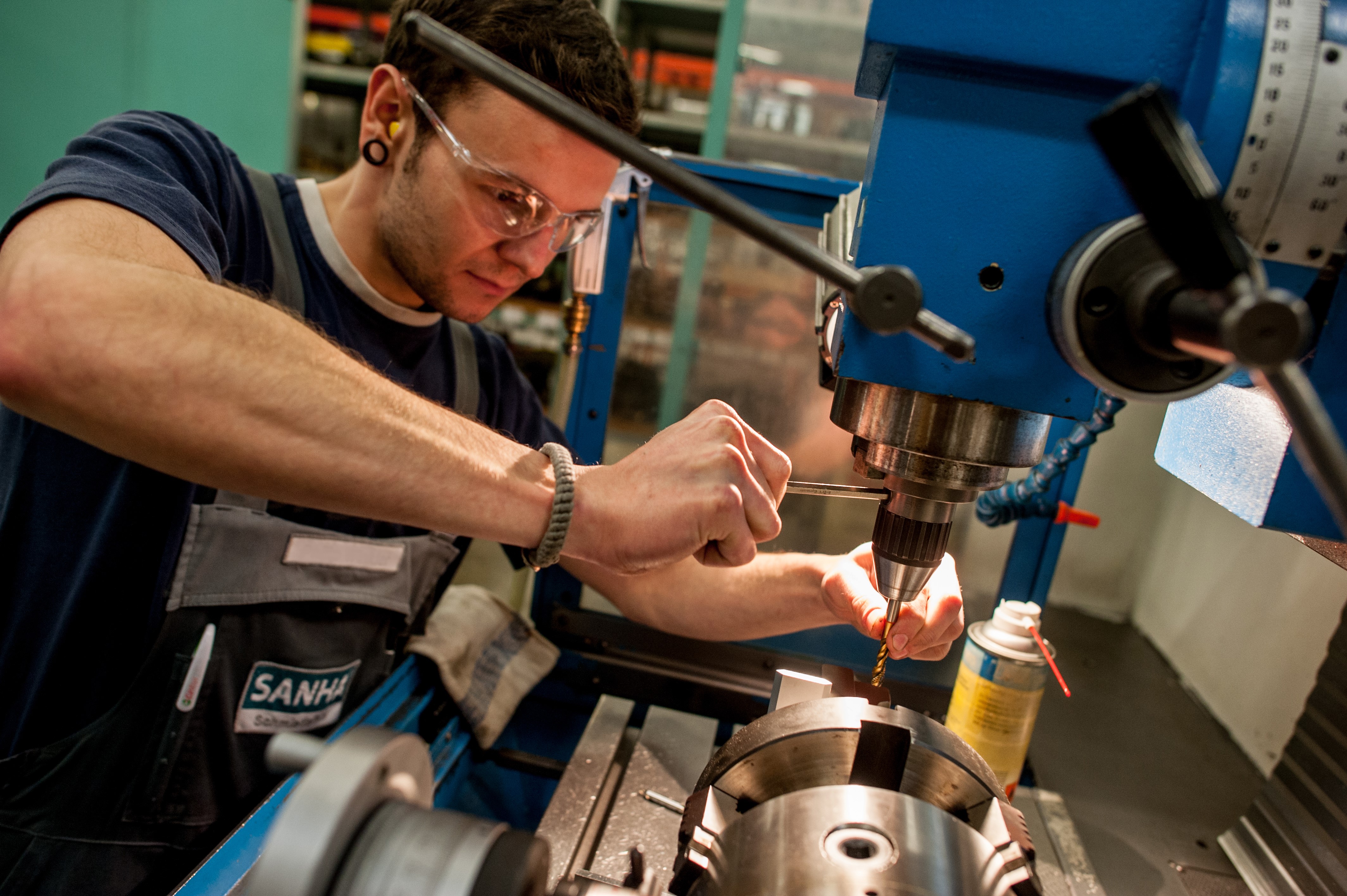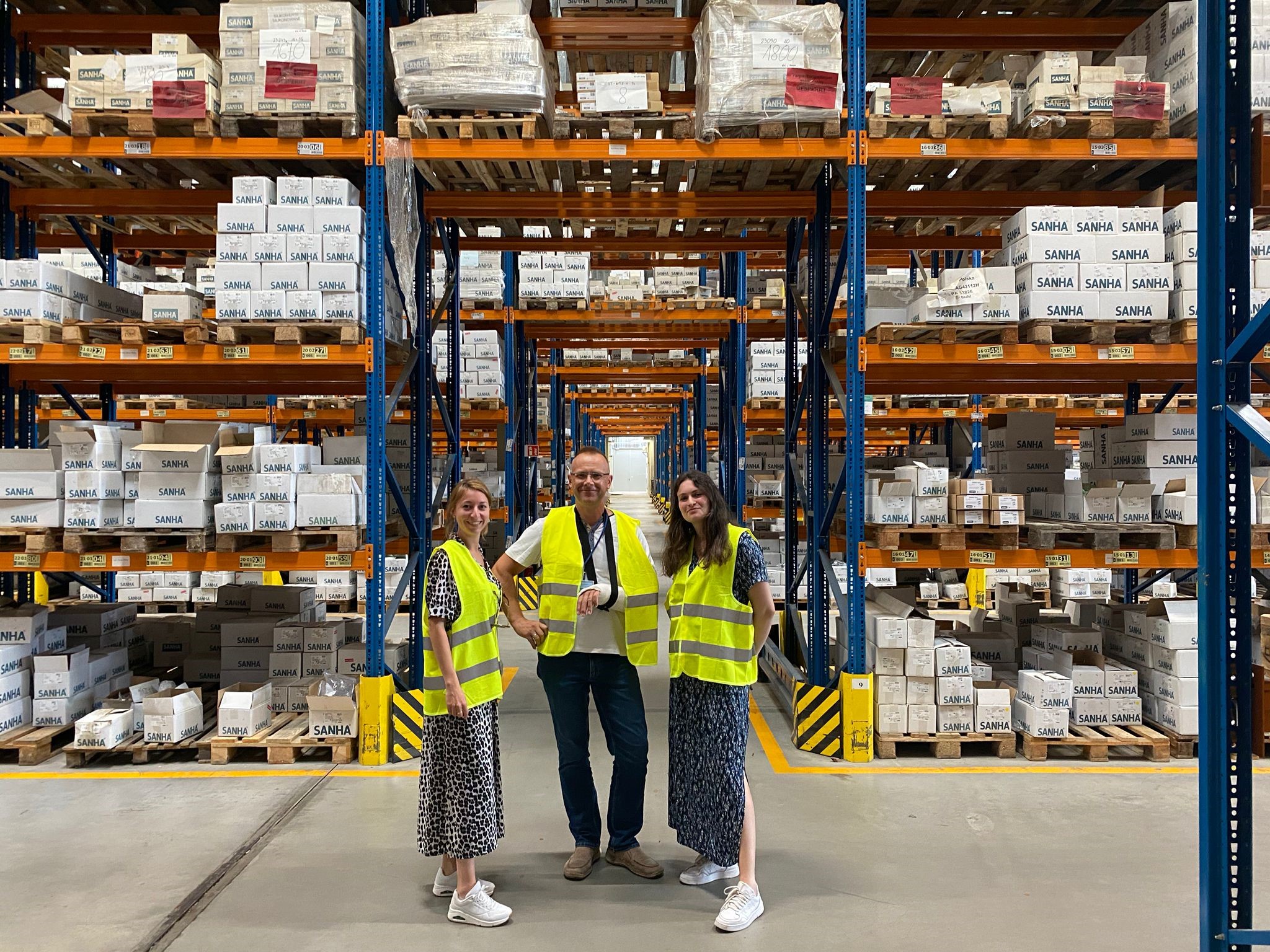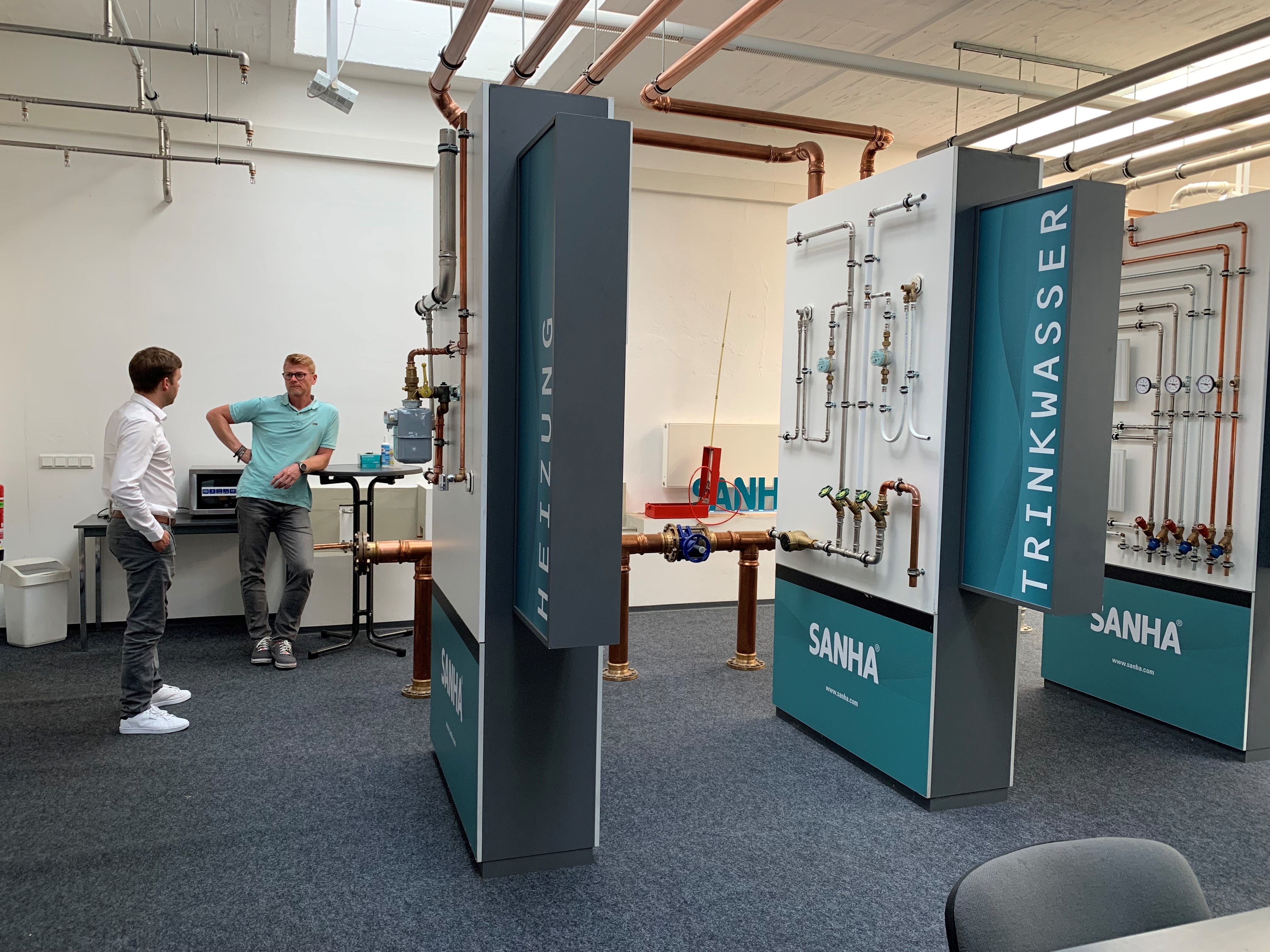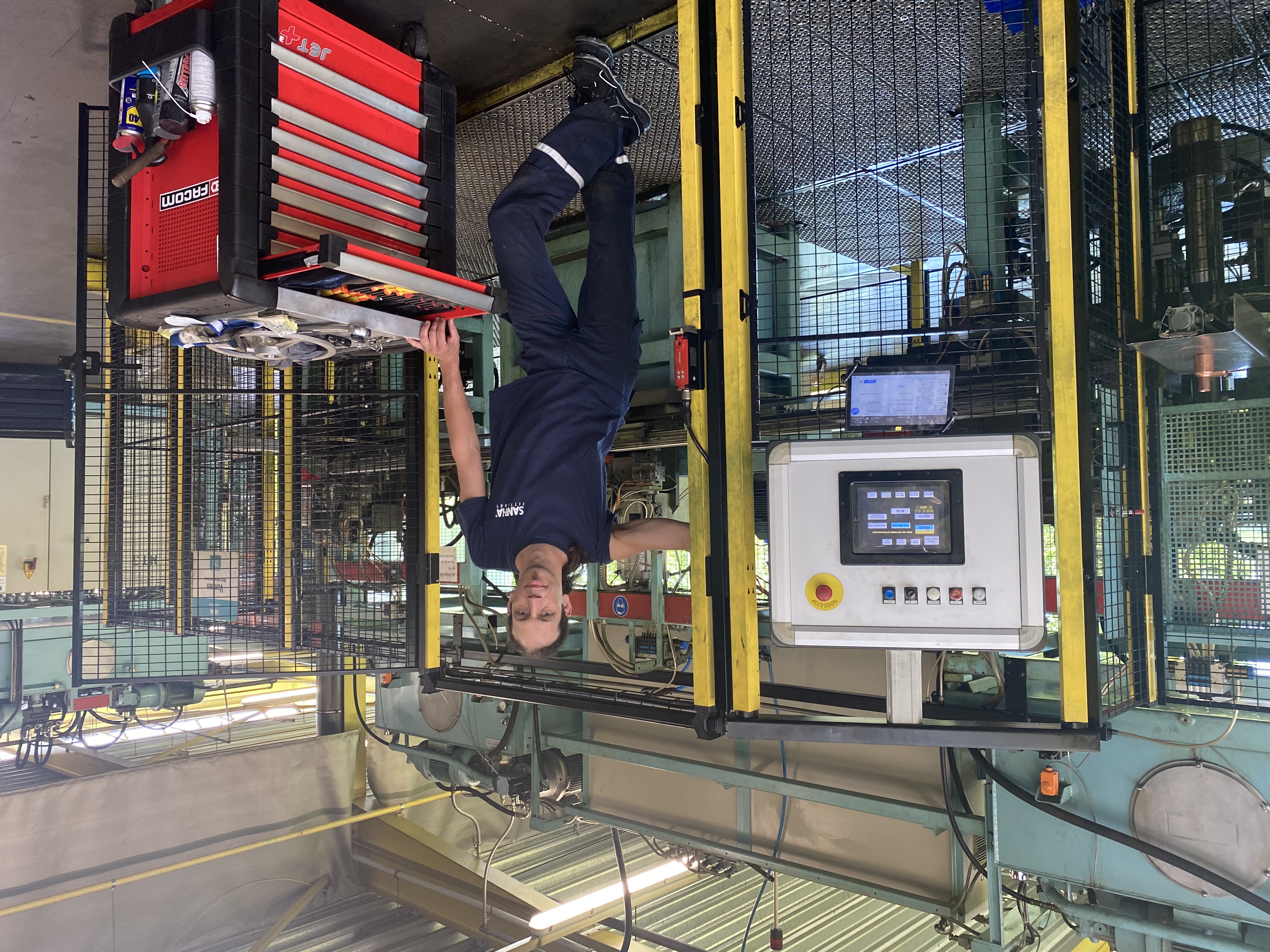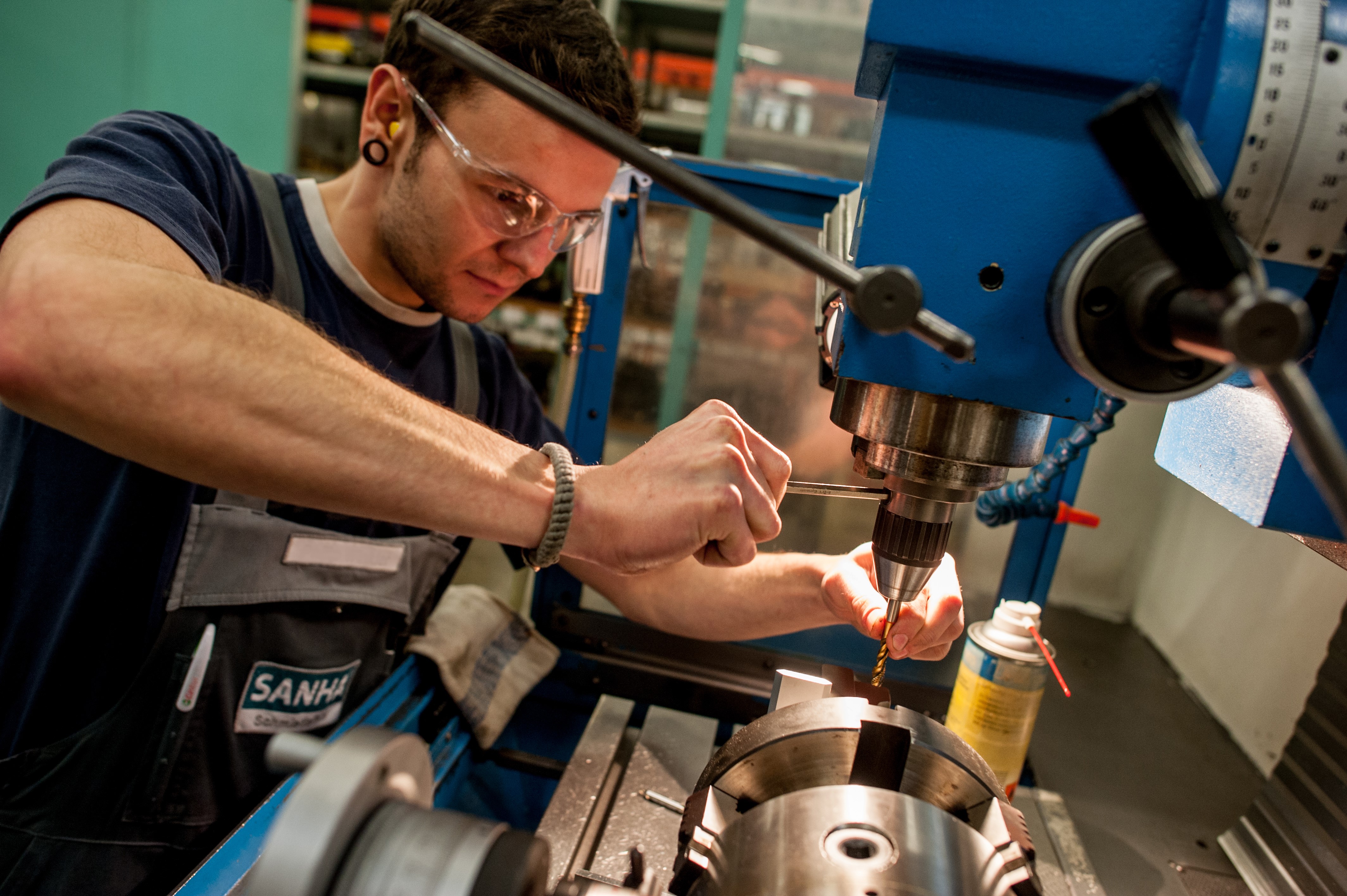 4. the environment
4.1 Current level - Current performance
We are the first manufacturer on the market with a completely lead-free bronze range. Several years ago SANHA® invested heavily in a completely lead-free solution for its piping systems. Lead has harmful effects on human health and the environment.
SANHA® also has its own water purification systems. The systems have been developed to comply with all regulations and legislation applicable to wastewater discharge.
Digitalisation within the company is both an innovation driver and strongly promoted on many levels. For example, payslips are no longer printed but provided to employees digitally. You can find more information about SANHA 4.0 here.
Digitalisation also continues in the warehouse, where we work with Pick-by-Voice, a voice-controlled picking system. Here, too, paper and ink are saved because the order papers no longer have to be printed.
We also try to reduce the consumption of paper and ink by printing recto-verso.
To save ink and paper, we also have a cloud, the "SANHA Center", where all employees of our branches in different countries store their documents. This means that all the information needed in the company is available to everyone, anytime, anywhere, and nothing has to be sent or printed.
From an environmental perspective, Building Information Modelling enables the following:
Better management of natural resources thanks to databases of BIM objects that make it possible to integrate information on the type, origin and resources supplied for production.
Less product waste, as any errors are discovered in the design phase instead of during the construction process. This ensures that the builders have the correct pipe dimensions and avoids discrepancies and therefore wastage of materials.
Less paper waste and ink consumption as all information is stored in the cloud. All partners can access the necessary information anytime and anywhere, so nothing has to be printed out on paper anymore. This applies to SANHA® as well as to its wholesalers and installers.
Development and objective 
We are currently in the process of developing software that will ensure that drawings can be sent directly to the machines. This will eliminate the need to print the drawings in the future. This development will take place in view of the further digitalisation of the company.
We continue to invest in BIM optimisation and innovation
Sustainability
Sustainability means responsibility towards employees, customers and - last but not least - the environment. SANHA has been committed to these values for many years and consistently implements them in its corporate decisions.
One example is the new plant for stainless steel fittings in Schmiedefeld near Dresden. A bright, modern and particularly efficient industrial building was constructed here. From the choice of building ground to the implementation of friendly and bright working conditions with modern new production machinery to energy-efficient heating through waste heat recycling, the Schmiedefeld plant meets all self-imposed requirements. This was recognised at Expo Real 2009 with the "German Sustainable Building Seal of Approval" certificate in gold.
The sustainability concept is also reflected in product development and material selection. For example, more than 50 percent of the raw material copper already comes from recycled materials, and SANHA has been one of the pioneers of innovative press and threaded fittings made of lead-free silicon bronze since 2008.