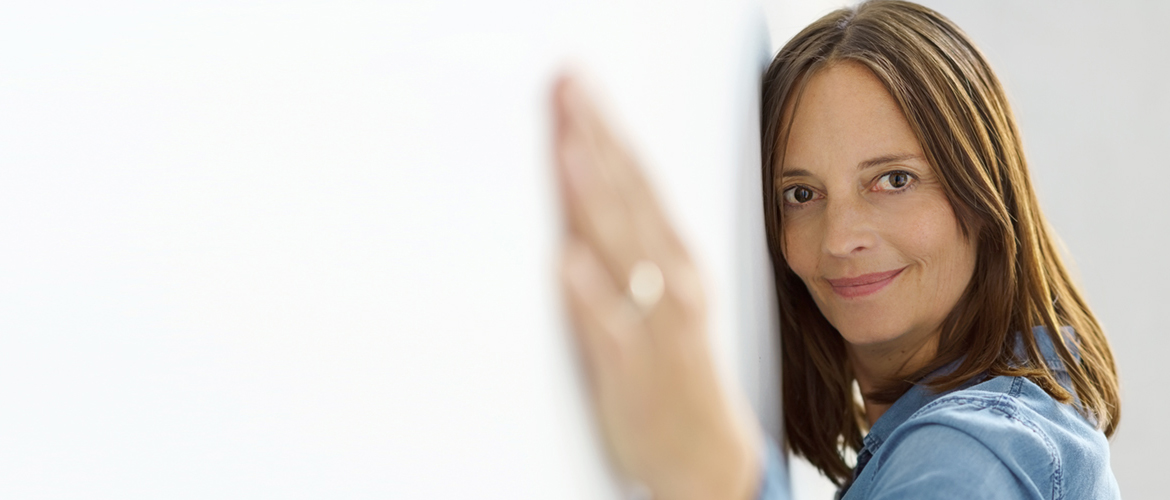 Heating with the wall
Surface heating systems are very popular. Whether its warm feet in the bathroom, maybe its significantly better energy efficiency due to lower average room temperature or no dust turbulence many good reasons speak for it. While underfloor heating is often the standard nowadays in domestic applications, wall heating can impact both domestic and commercial applications.
With the SANHA wall heating module, we offer a system for room heating as well as room cooling which, is characterised in particular by exceptional living comfort, very simple installation, particularly health-friendly properties and high energy efficiency. This system is excellently suited for new buildings as well as for the renovation of existing buildings. The wall heating modules are delivered ready to use with a surface that can be painted or wallpapered directly.
The wall heating system (which can also be attached to the ceiling) offers a pleasant room climate due to its radiant heat and at the same time a saving of approx. 15 % compared to conventional heat distribution. Another plus point is that it can be combined with all heating systems. Due to the radiation, there is practically no dust turbulence or draughts, which is an important criteria especially when plants are being processed. Installation is basically possible on masonry, wood and dry construction studs as well as on roof slopes. The modules can be installed in any alignment. The surface can be painted or wallpapered directly.
Structure of the wall heating module
The wall heating module is a prefabricated element that is installed in a similar way to a panel radiator. It consists of a galvanised sheet steel frame in which a multi-layer composite pipe (PE-RT/AL/PE-HD) is inserted and enclosed with a special heating mortar. The element is encased in cardboard paper. In addition to the wall heating module, the system includes
Fixing sets including mounting rails for fixing to masonry (art. no. 1WHBSM), wooden walls (art. no. 1WHBSH) and in drywall studs (art. no. 1WHBST), incl. screws and partly with dowels
3fit®-Press and 3fit®-Push fittings, multi-layer composite pipe etc. (integrated, supply lines must be ordered separately)
Planning and installation positioning
The SANHA wall heating modules are suitable for both new buildings and the renovation of old buildings. They can be used as a stand-alone heating system or combined with other surface heating systems and/or conventional heating systems as required. Surface cooling with the modules is also possible if the conditions are right. We also offer a planning service for the design of the wall heating modules (planungsservice@sanha.com).
The SANHA wall heating modules can be installed vertically or horizontally with the help of the corresponding fixing sets. Installation on masonry walls is just as possible as on wooden walls or metal stud walls. The modules can be installed on exterior and interior walls (in accordance with EnEV). Installation of the modules on roof slopes with a minimum roof pitch of 45° is also possible without any problems, provided that suitable fastenings are used.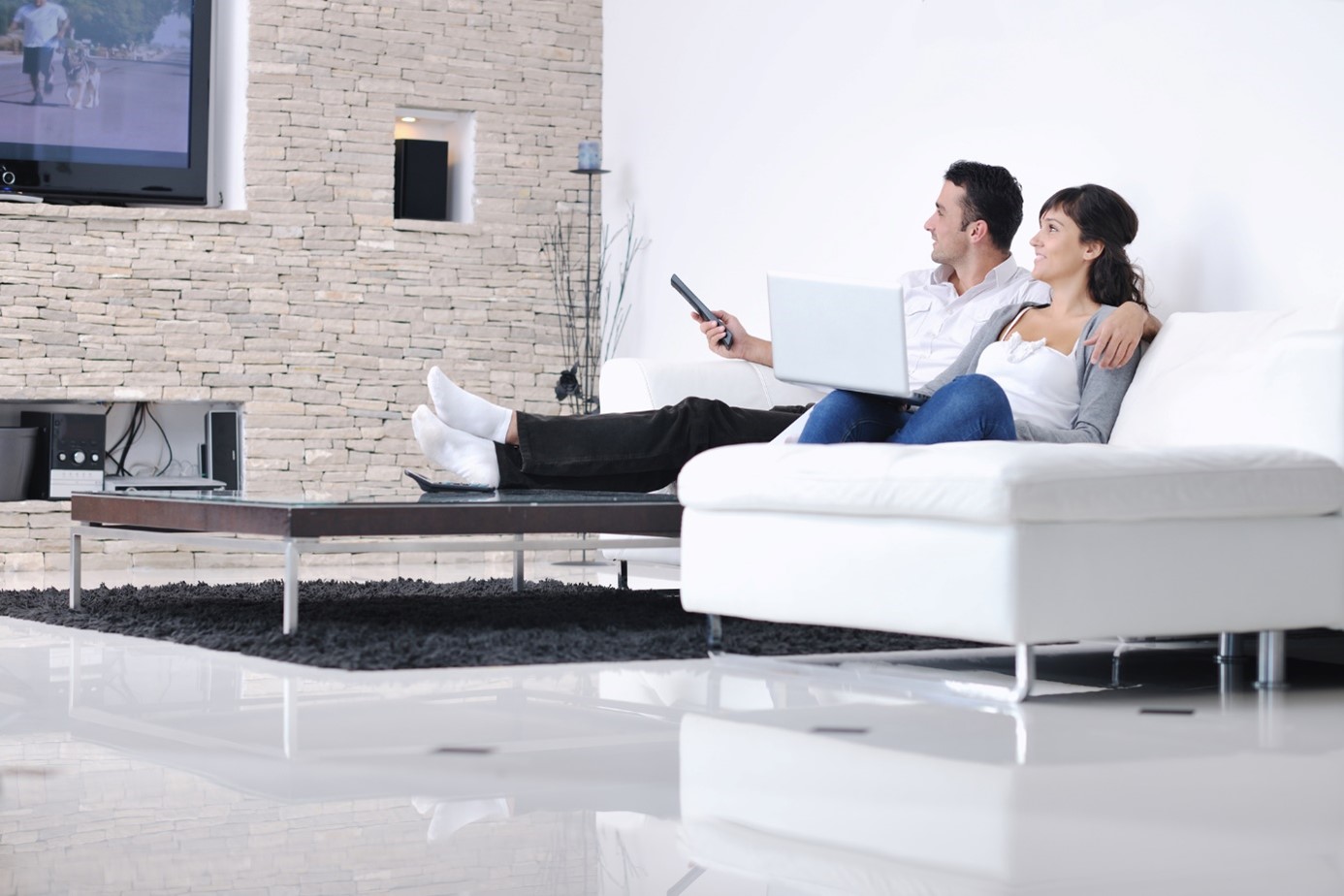 Saves space: In contrast to classic radiators, wall-mounted heating modules disappear into the wall, leaving room for design. This applies not only to living spaces, but also to commercially or industrially used buildings.
Parallel/series connection
When arranging several modules in one room, both parallel and series connection of the modules is possible. In order to ensure even heating with increasing pressure loss, a maximum of three wall heating modules should be connected in series.
Parallel connection
When connecting in parallel, make sure that each module can be shut off individually. The shut-off devices used must be equipped with a regulating and draining/flushing device so that hydraulic balancing and draining/flushing can be carried out properly.
Series connection
With series connection, only one central shut-off/regulation and draining/flushing device is required for the module group. When calculating the pipe network and the hydraulic balancing, the higher pressure loss and the resistances of the connecting pipes and fittings must be taken into account. These can be requested from the Technical Department at technik@sanha.com / +49 2054 925 170 or at www.sanha.com.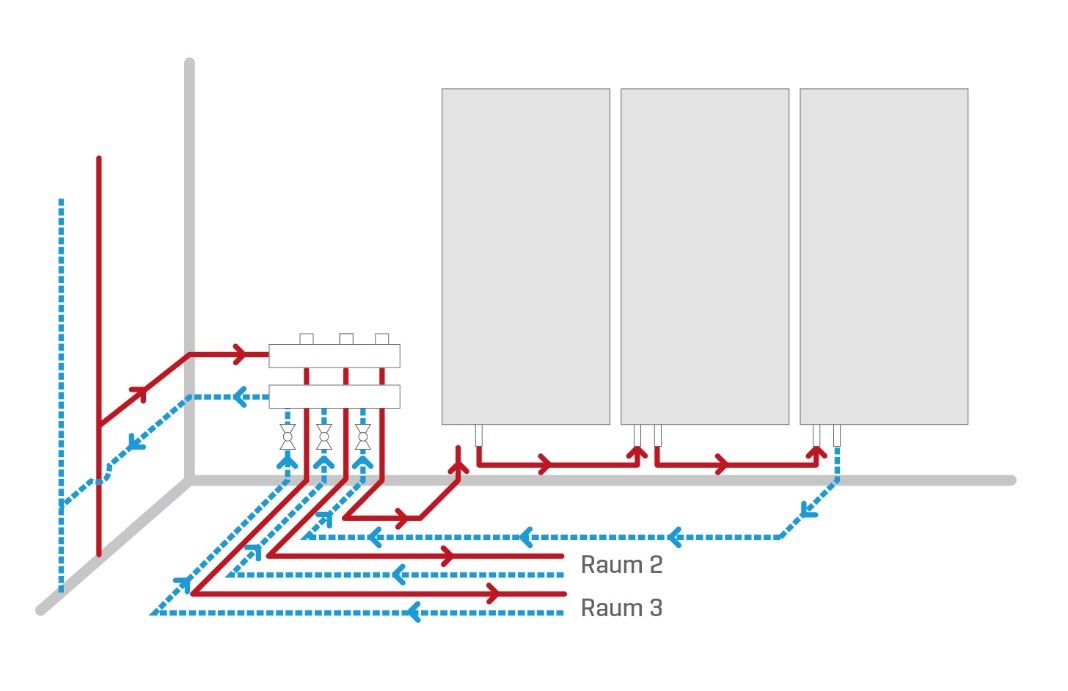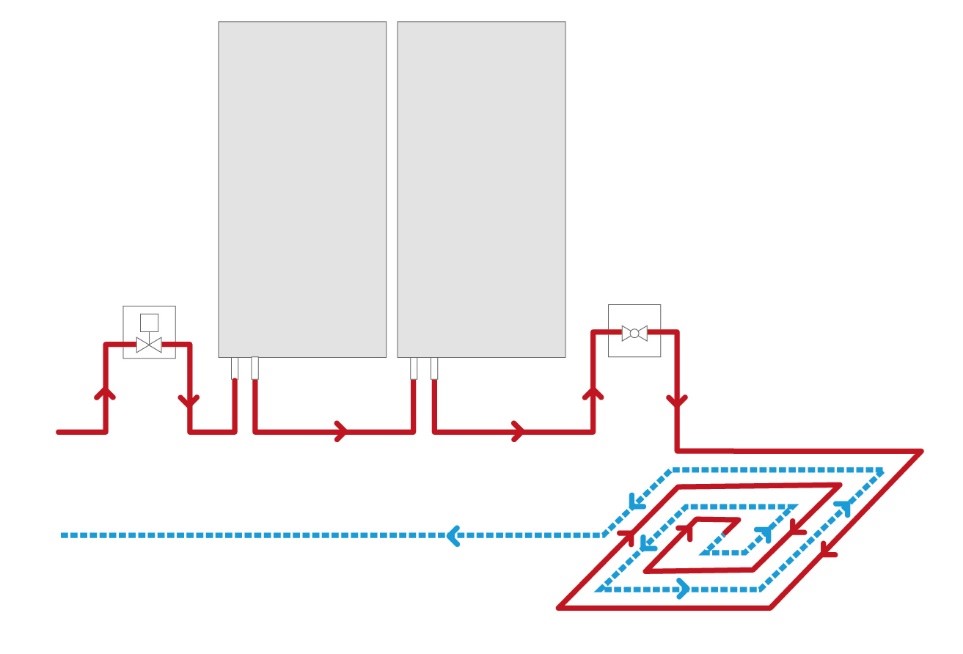 Installation: General information
Depending on the module size, 1 to 2 persons are required to transport and install the SANHA wall heating modules. The SANHA wall heating module must be handled on site in a similar way to drywall panels, i.e. in particular it must be protected from moisture. The modules must not be placed on the connection lines. When transporting individual modules, bending must be avoided. They must therefore be transported on edge. There is a banderole on each module with corresponding instructions. This label must be removed during installation.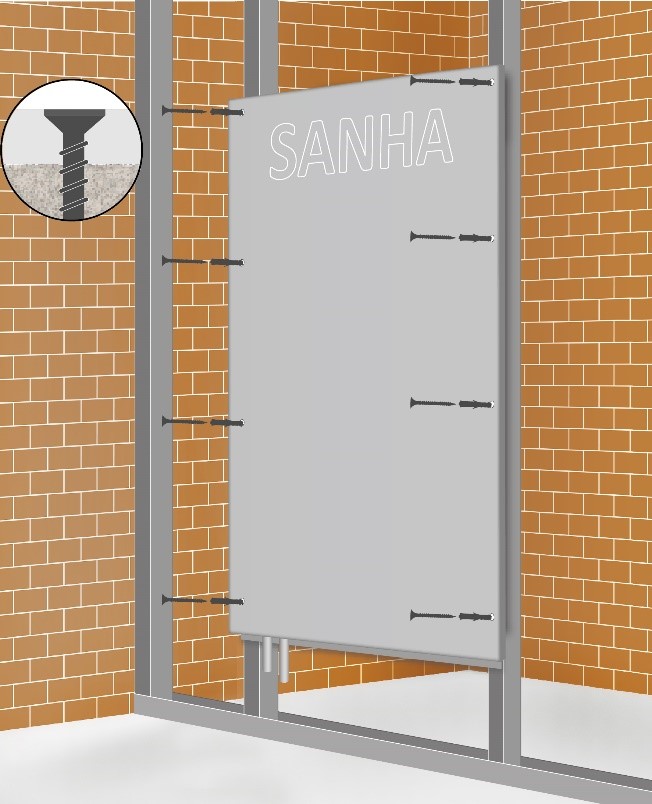 The wall heating module can be easily mounted on a mounting rail in masonry as well as in aluminium profiles.
Flow and return connection of the elements
In terms of the system warranty, only original SANHA products of the 3fit®-Press and/or 3fit®-Push series with the approved tools or compression fittings for composite pipes 16 x 2 mm may be used for the connection and module connection lines.
If fittings of other press or push-fit systems are used for the connection lines, a "system-compatible installation separation" must be carried out to maintain the system warranty. For this purpose, the module lines are to be used with the SANHA connection sets for press systems art. no. 1WHASPF or for plug-in systems art. no. 1WHASSF. The transition to the other system is then made at the female thread connection of the connection set.
The SANHA wall heating modules are usually connected in series within a room. The pipe section is pressed or inserted between two modules. From the flow of the first and the return of the last module, the connection pipes are led to the distributor or connection point.
Contact us for more information!
technik@sanha.com | 01628 819245